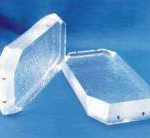 The quality policy covers all areas of the enterprise and is aimed at producing synthetic quartz crystals, synthetic quartz lumbered bars and quartz seeds that meet customer requirements. The company's
goal is to maximize customer satisfaction with products in terms of volume, range and quality in tough economic competition. In the field of quality, JSC Yuzhnouralsk Plant Kristall sets the following tasks:
To manufacture products that correspond to customer requirements, in a volume that allows the maximum combination of customer needs and enterprise capabilities;
To expand the range of products;
To ensure deliveries in an agreed timeframe;
To minimize production costs;
To examine customer inquiries, maintain constant communication with them, pursuing an "open door policy";
To interact with suppliers of materials and components to ensure the quality of procurement;
To train and improve the skills of specialists and workers;
To improve the performance of enterprise Quality system.
Quality management tasks are priorities in each division and for all personnel from the general director to the ordinary worker. The management of JSC "Kristall Plant" assumes responsibility for the implementation of the Policy and the provision of the necessary resources for the functioning of the quality management system.