About the availability of high-quality synthetic piezoquartz in Russia S.N.Abdrafikov on the example of JSC Yuzhnouralsk Plant Kristall .
Import substitution is not only a buzzword, but also an important event in the creation of electronic devices from the Russian element base. Twenty years ago, one hundred percent of piezoquartz crystals and crystals for glass melting were in demand by domestic manufacturers of quartz resonators, quartz oscillators and quartz filters. The situation has changed dramatically with the opening of foreign markets, especially the Chinese one. The proposals of Chinese manufacturers of electronic equipment at that time were economically very attractive. But our country should have its own electronics, especially the elemental base of piezoquartz. First of all, because the largest plant in terms of volume of autoclaves for production of synthetic piezoquartz crystals is located in Russia. So far, the Kristall plant has a share of purchases of piezoquartz by Russian buyers less than 5%.
In recent years, when manufacturers of piezoelements reduced production, little updated the product range, the Kristall plant not only retained production facilities and production technology, but improved it, ensuring compliance with its products to the best foreign analogues. Many technical and organizational decisions had to be introduced in order to compete with manufacturers of quartz from the USA, Japan and China.
Chinese market demand for crystal quality began to grow at an especially rapid pace when investors from Japan and the USA came to China. Today, Chinese electronics is created according to the best Japanese drawings under the guidance of Japanese experts. But to ensure well-being, each country must have its own electronics as a guarantee of prosperity now and in the future. As a Plant manager, I have always set myself the goal to fully and primarily satisfy the needs of Russian consumers, to improve the quality of crystals, hoping that Russian enterprises will also need high-quality crystals. Today, the Kristall Plant can offer piezoquartz crystals for any electronics product, any applicable processing technology.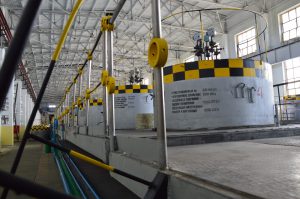 Speaking about the use of piezoquartz resonators, you can list all the industries – measuring equipment, household appliances and devices, automotive electronics, aviation and space technology, telecommunications and navigation equipment, etc. For different types of piezoelectric elements, piezocrystals with different characteristics are needed. We produce material for the most common resonators of AT-cut, and for high-frequency and super high-frequency piezoelectric resonators using bulk acoustic waves, also material for the manufacture of optical filters for cameras and video cameras, material for melting the pure quartz glass. The plant pays special attention to the production of high-quality seed material – the basis of high-quality crystal. Availability of own seed plates with etch channel density less than 1 piece per square cm allows stable production of piezocrystals with ECD less than 10 pcs / cm2.
The team of the company is experienced, responsible and proactive. Many technical solutions are protected by copyright certificates or applications for invention.
Control equipment allows to see all optical defects in crystals, the testing laboratory has instrumental equipment for control of electrical characteristics and chemical composition of products. Designers and manufacturers of Russian piezotechnics and optics can always find the necessary material at our enterprise. Full specifications can be found on our website www.h812091178.nichost.ru or be discussed with expertssdkristall@gmail.com
S.N. Abdrafikov – Chairman of the Board of Directors of JSC "Kristall Plant", Ph.D. in Economics, laureate of the State Prize.